Choosing the right coho fly reel is a little more thought provoking than choosing a rod that???s best suited for saltwater flyfishing, but we???ll cover all you need to know and give you some ideas on great products in the following article.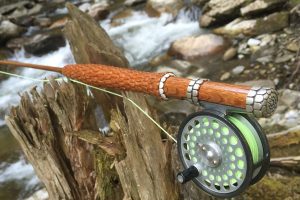 We???ll start off by reiterating the fact that we are in the element that corrodes most any material in a matter of days into nothing ??? saltwater.
The air alone and evaporating water that rises off of the surface is enough to corrode a well maintained reel that hasn???t been rinsed in a bucket of freshwater after use.
Check out our selection of fly reels here
As with any fishing reel, they are made of more than one component;
Frame

Spools

Gears

Drag

Paddles or Handles
Lets discuss some of these components so that choosing the right coho fly reel will be a sinch, but before that we???ll have a look at over reel composition.
General Reel Rules:
Buy a reel that is made of materials that will stand up to the harsh corrosion of the sea such as aluminum.?? These reels will stand the test of time and are far better than those made of graphite, although usually a lot more expensive.?? A couple of good features to look for in aluminum flyfishing reels or spey reels is an anodized finish or machined bronze aluminum finish.?? These finishes help protect the already superior aluminum reel even more, from harsh saltwater.
Fly Reel Frame:
Choosing a fly reel frame is one of the things that you need to consider when your shopping online for saltwater fly reels or freshwater fly reels.?? The frame is a curcial element of the reel.?? They are made of graphite as well with the higher end frames being built of aluminum.
You can purchase the ultimate and find a reel that has been machined from a solid block of aluminum with no breaks or cracks for the saltwater to work itself into as well as the fact that it is going to be the toughest and most rigid. It???s because of this machined design that the effects such as torque, reduces the wear on other components like the spool and reel body when a fish is caught.?? Of course like anything with quality, comes cost.
Fly Reel Spools:
I???ll say it again ??? remember folks, we are fishing in saltwater for Coho here.?? It???s wide open, there are things like wind, currents and Coho that can spool you in seconds, especially if you???ve had some nice long cast???s, so choosing a spool with the proper capacity separates those with fish and those without line OR fish.
A spool that has a capacity of about 200 yards of 30lb backing and 8wt floating line is good. Reels like the ???Ross Momentum Saltwater / Spey Fly Reel??? is a great choice at a reasonable price between $200-$300.?? Of course one of the best reels on the market is Sage???s 3400D, 3500D and 3600D, at around $500-$700 it???s a higher end model that will last a long time and give you the ultimate in performance and feel.
Gear Ratio In Saltwater Fly Reels
Gear ratios in any reel are critical features although not usually major factors when choosing the right ??coho fly reel. The ratio, in general, determines how fast the line is retrieved compared to how many turns or how much pressure that you put on the handles.?? This effects the overall fight and success rate of playing a fish as well as fatigue of the fisherman.
Another way of explaining gear ratios in reels is like explaining the gears much like an old Toyota 4X4!?? In four wheel drive in the ???Low??? gear, the truck has more power or torque, but the wheels turn slower giving you a slower top speed per revolutions of the engine.?? Well this is the same with a reel that has a low gear ratio.?? Give it a higher ratio and you???ll have a little less power, but you will ???go a lot faster??? or reel the fish in quicker when you need to keep the line tight.
Some reels today are equipped with a ???transmission??? like gear system that allows the angler to switch between gears to a different and easier to handle gear and are more like the transmission of an old truck like the Toyota!?? Although these factors are important when buying baitcasting reels, they are not very ???optional??? when it comes to fly reels, though I would expect to see more of it in the future.
Drag System in Saltwater Fly Reels
A drag system that will last is a major key to choosing the right coho fly reel although it???s not easy.?? This is one of those things that you need to feel in order to make the right choice for you, as well as relying on word of mouth on which reels have a long lasting drag system that gives a smooth feel when fighting fish.
One of the oldest and least expensive drag systems that is still used in the construction of fly reels today is cork.?? Cork is adequate for a drag system although not quite as durable as others.?? The key to keeping a cork drag system in top shape for longer life is to always keep the surfaces of your reel clean, free of sand, lubricated and the tension of the drag off when not in use.
The next best drag system that is over and above being ???adequate??? is a disc system and is used in most high or even mid range reels.?? It???s smoothness and durability are it???s main advantages.?? The disks work much like those of any car disk or new mountain bike disk brakes, where depending on how hard you push, how tight you squeeze, or level of drag you put on it, will determine how fast the wheel or spool is able to turn.
Many anglers that are weekend warriors turn to a disk drag that is made of Rulon??.?? This material stops the reel from a jerking motion and allows the drag to release smoothly with the run of the fish or pressure that is put on the reels drag.?? Some reels are known for being ???jerky.???
Still want more??? Get carbon fiber!?? Like any ???brake??? the material of the brake bad determines the performance and well???.cost of the pad.?? Carbon fiber is no different.?? It???s the make up of this material that allows for the quick cooling and better performance of the disk that allows the drag to perform at it???s best for a longer period of time before breaking down or overheating because of a huge Coho run.
If a carbon fiber reel with all the bells and whistle still isn???t enough to put your mind at ease when buying a coho reel for saltwater fishing, then be sure to buy a reel that has an enclosed drag system that keeps out debris, sand and other elements that it may encounter.?? Although these reels are less likely to get gummed up, I still always recommend a good cleaning after every use to ensure longevity.
Get a Grip!
Okay so this is the last thing on your mind right??? Well when you consider more knuckles have been smashed on these little nubs from aggressive running Coho than any other reel and considering the fact that when you get a fish on you want to have a good hold on the grip when you spend half the day holding it???maybe it???s not the last thing to consider??? For big game fish like Coho I recommend a paddle style handle system that???s easy to grab onto and hold onto, although this is a feel thing as the choice of handle is more of a feel thing and is not as tough as choosing the right coho fly leader.